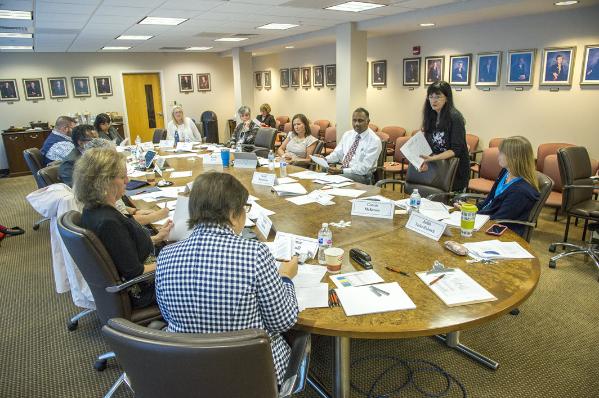 Laying the foundation
The Fine Family Academy of Educators was created in January 2019.
Beginning 2016, Elza Mylona, PhD, MBA, engaged various EVMS stakeholders including institutional leaders, the Board of Visitors and others to explore the potential goals and benefits of an Academy. In November 2017, a broadly representative EVMS Academy of Educators task force was established.
The task force used a deliberate and thoughtful consultative process to create a best fit model for EVMS. This process included:
A review of evidence-based literature focused on academy models at health professions education institutions
Input from nationally recognized leaders of academies regarding design, implementation and best practices
Two half-day Academy Design Retreats with task force members
The task force engaged EVMS faculty by visiting department faculty meetings to facilitate a transparent process of sharing information, seeking input and answering questions.
Their discussions and resulting insights have contributed to an academy model that fits EVMS best to advance and celebrate educational innovation, excellence, engagement and scholarship across the education and career continuum in the health professions. The task force was retired in December 2018.
Sheila Chauvin, PhD, MEd, Academy Development Consultant, has been instrumental in the academy's formation. She designed and facilitated the Academy Design Retreats. At the retreats, important elements of the academy core purposes, values, mission and vision statements were discussed. In addition, the initial design was drafted for academy membership categories.
Dr. Chauvin created the first interprofessional health sciences, center-wide academy at the Louisiana State University Health Sciences Center New Orleans in 2002. She is also highly experienced in developing and enhancing effective educator academies at many health professions education institutions across the United States.
Task force members
Julie A. Bridges, PhD
Educational Specialist, Instructional Designer
Cynthia P. Cadieux, PhD
Associate Dean, Educational Assessment and Evaluation
Associate Professor, School of Health Professions
Tammy Chrisman
Executive Director, Business Affairs
Alison E. Dobbie, MB, ChB (MD equivalent)
Chair and Professor, Family and Community Medicine
Carrie Elzie, PhD
Program Director, Contemporary Human Anatomy, MS
Associate Professor, Pathology & Anatomy
Ronald W. Flenner, MD
Vice Dean, Academic Affairs
Professor, Internal Medicine
Mekbib L. Gemeda, MA
Vice President, Diversity and Inclusion
Assistant Professor, School of Health Professions
Mily J. Kannarkat, MD
Associate Professor, Internal Medicine
Julie Kerry, PhD
Chair and Professor, Microbiology and Molecular Cell Biology
Brooks Lively
Major Gifts Officer, Development
Connie McKenzie
Senior Associate Vice President, Development
Elza Mylona, PhD, MBA
Vice Provost, Faculty Affairs and Institutional Effectiveness
Professor, Internal Medicine
Drucilla A. Papafil
Director, Continuing Medical Education
Agatha C. Parks-Savage, EdD
Assistant Dean, Graduate Medical Education
Associate Professor, Family and Community Medicine
Senthil Kumar Rajasekaran, MD
Associate Dean, Academic Affairs
Professor, Pharmacology
Vincent Rhodes, PhD
Assistant Vice President, Marketing and Communications
Judith Taylor-Fishwick, MSc
Director, Professional Development
Assistant Professor, Pediatrics